Meet Brian.
Hi, my name is Brian Gruber. I am the founder of Calm Doggy LLC. I am a certified dog trainer that uses natural pack psychology to help rehabilitate troubled dogs.
---
My Training
I am an Associate Member of the IACP (International Association of Canine Professionals). I was trained directly by Heather Beck, who is a Professional Level Member of the IACP and serves as an active member of the Board of Directors. Heather has been trained and mentored by some of the "Best In the Business", including Martin Deeley, the Executive Director of the International Association of Canine Professionals.
While training, I observed dogs acting naturally within a pack, with little to no human interaction. By the end of my training I was very comfortable being the only person in a group of 20-30 off leash dogs, many with aggression or fear based issues.

My Style
I use natural dog psychology similar to that observed in a pack of dogs. I use a combination of energy, body language, and appropriate physical touch to communicate with dogs. I believe that the best training technique is the one that works! Though I stress pack leadership, I have no problem introducing positive reinforcement, clicker training, or anything else that works for the situation. I love dogs and find the best approach that will work for the dog and the owner.
My Services
I offer several Kansas City Dog Training services. If you're worried or don't know where to start, why not email me or give me a call directly at (913) 735-3364 .
I won't bite :)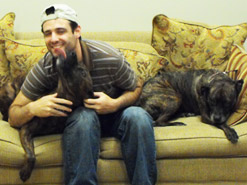 Brian, Sampson, & Sammy. Sitting in a tree...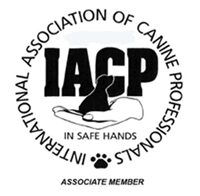 Calm Doggy - Kansas Dog Trainer is now on thumbtack.com, an online hub for
trustworthy services.